Customize Resources
Add your own Resource Type to the system, i.e. Conference Rooms, Computers, Autos, etc.
Add custom resource characteristics to each resource type allowing you to add details to your resource types., i.e. Chairs, Tables, RAM, HardDrive, etc.
Add individual resources to the system. Each resource has the characteristics associated to its resource type.
Assign multiple admins to a resource. TAdmins can add/edit events for the resource.
Coordinate Resources
Turn Email Reminders on or off for each resource.
Email options for day of event, upon scheduling, or a specific day before the event.
Relate resources to a department in your organization. This allows you to have a set of resources for one department and a different set of resources for another department.
Assign secondary departments to a resource can be shared with users in another department.
Your departments and users can be imported from a spread sheet for easy setup.
Great for:
Small and Large Businesses

Schools
Sports Teams
Our Resource scheduler and calendar applications provide the easiest way to get a calendar online TODAY for your business or organization. Create a web calendar for your business, school or sports team. Easy to use for events management, this is a great resource scheduler for almost any type of resource. Try our free trial to see how it works for your group. You can sign up today and your free trial will be ready as soon as you validate your email account.
Our Resource Scheduler provides your organizaiton a central database for scheduling your equipment.


The schedule grid shows the resource's schedule for the current day.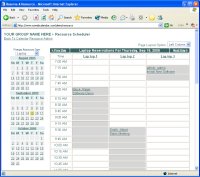 Easily Book a Resource By clicking on the grid. The grid's layout can be easily changed.